Here is the card I made for Barbara.
The card was 11.5x 5.5
I trimmed a piece of card stock off the front. I glued some patterend paper on it and punched out two circles on 1.5 and one 1.25 I stamped happy birthday on the 1.25 glued it to the bigger circle and glued the bigger circle to fall off the cover. I used a border embossing folder and ran it through the cuttle bug machine. for some extra pow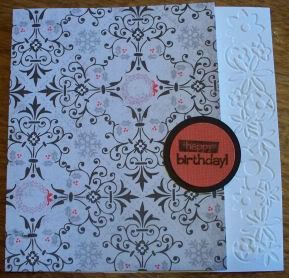 Here is the card I made for Kim
I used the embossing folder and die cut with the peacock from cuttle bug. It came with the frame too.
Here is the card conner made for Aunt Kim. He wanted to put a lot of details to it. Meaning stamping and punching. He liked that stuff!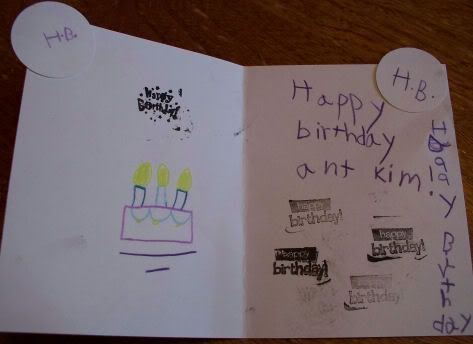 I think he was getting bored when he got to AB
it didnt have a much detail